Tactical Laser Tag Equipment
Designed to offer the ultimate in realism.
If you've played Call of Duty, Battlefield or Halo,
Here's your chance to LIVE THE GAME!
Due to the size and weight of the Tactical Equipment, Ages 10 and up are recomended.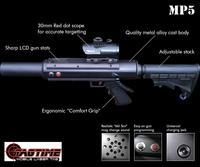 The MP-5 SUB-MACHINE GUN is the workhorse of our inventory. It's perfect size, weight, and balance matches the real silenced MP-5. Capable of shooting over 1000 feet and equiped with RF technology allowing gun-to-gun communication for scoring. The gun's screen shows available ammunition, clips, hits and who hit you.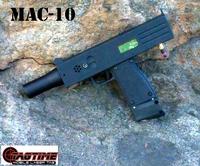 The MAC-10 is one of the most flexible laser tag guns ever made. It can be used by the younger players and has become the a favorite with women. The Mac 10 is great for Hardcore CQB (Close Quarter Battle) missions. The weight compared to most laser tag guns is only 2.2 lbs which is truly incredible.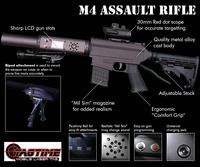 Out of all of our Laser Tag Guns the M4 ASSAULT RIFLE is the one the Soldiers and Kids all want to play with during the game. Allowing players to have a great time while looking as Hard Core as can be. The M4 is designed for a player that wants realism taken to the extreme. Our M4 actually uses several real M4 components.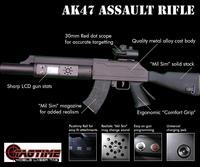 The AK-47 ASSAULT RIFLE is our heaviest Tagger at close to 8.5 Lbs. Can be used as a Sniper Rifle or to add more realism to mission simulations. When a player grabs the AK-47 you see a whole new personality emerge from the operator. If you need a bad guy Laser Tag gun we have it.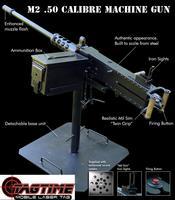 Our M2 .50 CALIBER MACHINE GUN is a fully functional and programmable laser tag gun that doubles as a show stealer and crowd pleaser. Nearly 7ft long and close to 100lbs the M2 is a beast. Awesome for Mil-Sim, and Large events. Nothing beats the excitment of going up against the "50".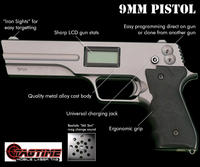 The 9MM PISTOL can be used for training or to add another level of realism for experienced players. The real look and feel of the 9mm Pistol is amazingly accurate.