Game Props
You've never Experienced Game Play like This!
If you've played Call of Duty, Battlefield or Halo, You're
familiar with Domination, and Search and Destrol Missions.
Here's your chance to LIVE THE GAME!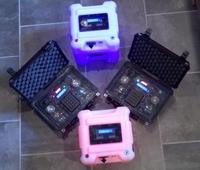 The Domination Box will totally change the way you feel about Laser Tag. An Exciting way to score mission based play, these boxes allow each team to fight over and control areas of the battlefield.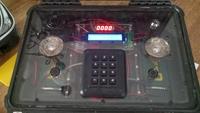 The "BOMB" is our most exciting (and Loudest) game prop. Used for search and Destory Missions. One Team is tasked with planting the Bomb and Arming it. While the Opposing Team defends the area and will try to disarm the Bomb, if planted.
Bunkers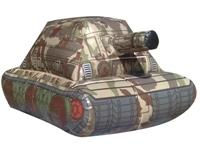 The Russian Battle Tank is great for a field ceterpiece or used at each end of the field as Team Bases. These Tanks are Impressive at over 10' long, 6' high and 6' wide. $25 each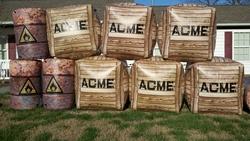 Crates and Barrels, Add a set of 4 Crates and 4 Barrels to your playing field. These are great to add realism to the game play or just to add extra cover. Crates are 4'x4'. Barrels are 40" high, 25"dia. $50 per set of 8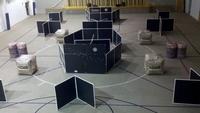 Our Indoor Arena is included at no additional cost for our Group Events. A combination of High and Low Walls allows us to create Rooms and Coridors for an incredible playing field.
Let us Turn you Gym, Meeting Room, Shop, or Warehouse into a Modern Warfare Battlefield. Arena Video
(Crates and Barrels shown are optional items.)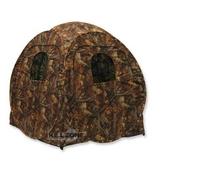 Standard Bunkers. Our party pricing includes up to 12 of our standard bunkers to provide cover for the players and for team bases.